About the Australia Fiji Business Council
Building effective business relationships between Australia and Fiji.
Membership of the Council is essential for any Australian company doing business in Fiji, or looking to do so. Membership is open to any company or individual who supports the Council's goals.
The Australia Fiji Business Council (AFBC) is an independent association of businesses based in Australia with interests in Fiji. It is the peak business body for business between Australia and Fiji.
What is the Australia Fiji Business Council?
The AFBC was established in 1986 with the aim of providing a framework within which the private sector can communicate with the Australian and Fiji Islands governments at the highest political and policy advising levels with a view to finding solutions to trade and investment issues involving the two countries. It also provides members with an all important network to help further their business goals in Fiji.
Who are the members?
Membership of the Council includes a wide range of industry groups, from large corporations to small family companies.
Some of the industries represented are: shipping, trading companies, freight forwarding, manufacturing, transport, airlines, accountancy/audit, management and business consultancy, insurance, media, building & construction, tourism, banking, petroleum, tobacco, food/confectionery, legal services and mining.
By becoming a member, you can access these industries and a well-established network of businesses already operating in the Fiji Islands.
The Council operates with an Executive Committee made up of a President, Vice Presidents, several Executive Committee Members, view the current Executive Committee.
What activities does the Council offer its members?
The Council's activities include participation in regular bilateral Ministerial talks to discuss major policy issues of concern to Australian business, the receiving and sending of trade and investment delegations between Australia and Fiji, and the holding of trade, investment and information seminars on Fiji including a major annual conference co-hosted jointly with our Fiji based counterpart, the Fiji Australia Business Council, held alternately in Australia and in Fiji. To keep members informed of developments in Fiji we distribute information to members regularly on current political, economic and social issues. Of particular value to members whose interests in Fiji are in the early stages of development is that the Council provides access to a network of Australian businesses with long experience in Fiji.
The Australia Fiji Business Council operates out of Brisbane. 
You can learn more about the Australia Fiji Business Council by downloading this brochure.
A copy of the Council's constitution is also available here.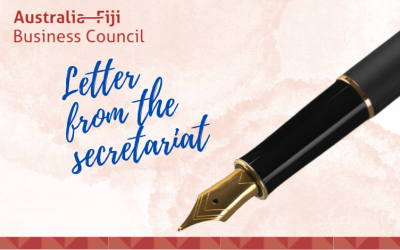 Dear Members, We've been having a busy few months at the Business Councils' secretariat office, with two major...
read more